B'z The Best "ULTRA Treasure"
From B'z Wiki
B'z The Best "ULTRA Treasure"
Compilation album by B'z
Released
September 17, 2008
Genre
Rock
Length
1:13:26 (Disc 1)
1:02:34 (Disc 2)
0:05:35 (Disc 3)
Label
Vermillion Records
Producer
Tak Matsumoto
B'z chronology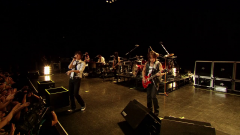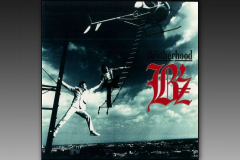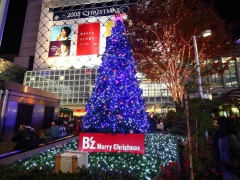 B'z The Best "ULTRA Treasure" is the seventh compilation album released by B'z on September 17, 2008. Released to coincide with their 20th anniversary debut, all songs up to their 45th single "BURN -Fumetsu no Face-" in this compilation were voted by fans to appear on the album. Unlike their last request best album B'z The Best "Treasure", where voting was only possible through a postcard included with copies of B'z The Best "Pleasure", for this release fan voting could be done through the official B'z website. Therefore, anyone with internet access could vote for up to three songs per person which is the same amount as the last Treasure album.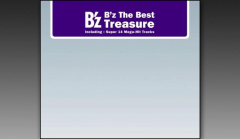 A total of 30 songs were selected by fans, in addition to the new song "Glory Days". Out of the 30 songs, "BLOWIN'" is a newly re-recorded version, while "F.E.A.R" is a remixed version. The compilation was released in both a "2CD+DVD" and "3CD" editions. The DVD enclosed is a full recording of a recent live house tour "B'z SHOWCASE 2007 -19-". The 3CD edition collects another brand new track "Itsuka Mata Koko de". Similar to B'z The Best "ULTRA Pleasure", all tracks on this best of album have been remastered to improve the overall sound quality.
Of the 30 songs in this best of album, only five are single tracks, with the rest of the songs comprised of a mix of album tracks and 2nd beats (B-sides). As a result, over a dozen singles are missing from both B'z The Best "ULTRA Pleasure" and B'z The Best "ULTRA Treasure". This was eventually rectified for their 25th anniversary releases in 2013, B'z The Best XXV 1988-1998 and B'z The Best XXV 1999-2012 which included a comprehensive track list of every single released thus far.
The cover of B'z The Best "ULTRA Treasure" is the same thickness as their earlier release B'z The Best "ULTRA Pleasure". However, unlike that album which opened from the right, this album opens from the left. Arranging these two compilations together produces a star-shaped mark as seen on the covers of both albums. With the exception of the tracks "BLOWIN' -ULTRA Treasure Style-", "Brotherhood" and "Home", all tracks are arranged in chronological order, as with B'z The Best "ULTRA Pleasure". Each individual who purchased a copy of the album in stores could enter into a contest to win prizes such as stickers, key holders, and clear files. On the day of release, September 17, the morning edition of the Yomiuri Shimbun newspaper featured a four page colored advertisement. Notably, other than commercials promoting their new release, B'z did not make any television appearances.
Upon release, B'z The Best "ULTRA Treasure" premiered in the top spot on the weekly Oricon albums chart, making it the second top selling album for the month of September. The Recording Industry Association of Japan has certified the album with Triple Platinum status for sales exceeding 750,000. On December 9, 2008, Christmas-themed editions, limited to 100,000 copies each, for both this and its companion album were re-released. By December 22, the compilation climbed back to 9th place on the Oricon charts. In total, the compilation has appeared on the Oricon charts 33 times and was ranked as the 16th best selling album of 2008.
Track listing
All music and guitar by Tak Matsumoto. All lyrics and lead vocals by Koshi Inaba.
Disc 1
Disc 2
Disc 3 (3 CD Edition Only)
Itsuka Mata Koko de — Here Again Someday, いつかまたここで

Sorry, your browser either has JavaScript disabled or does not have any supported player.
You can download the clip or download a player to play the clip in your browser.

Available only on the 3CD edition of this compilation. The promotional video, originally published on their official site, features footage from past LIVE-GYM concerts. Rather than including the lyrics in the booklet, the lyrics for this track is shown below the CD tray of the album. This track was used as the theme song for TV Asahi's Thursday drama series "Shōni Kyūmei" (小児救命). It has been 11 years since a B'z song, "Calling", was used for a drama series. According to the Recording Industry Association of Japan, this song is certified Gold in the Chaku-Uta Full rankings.
DVD (2CD+DVD Edition Only)
In 2010, a Blu-ray home video release comprised of this concert and B'z LIVE in Namba 2006 was released. Unlike B'z LIVE in Namba 2006, which is available as a DVD separately, the DVD version of this SHOWCASE is only available on the "2CD+DVD" edition of this album.
Voting results
Voting started in April 22, 2008 and ended in June 30. Voting lasted for 70 days, and the total number of votes made by fans was over 400,000.
In June 10, midway results were released, the final results were released in July 16. A number of songs climbed several places within that time span. For example, "TIME" was originally 21st but ended at 9th place, and "F.E.A.R", originally in 32nd place, made it into the compilation at 26th place. In a turn of events "OH! GIRL" midway through was at 23rd place but did not eventually make it into the best of album.
The following is a table of the voting results:
NOTE: "Midway Result" in the table below refers to the results revealed halfway through the polling period, showing the positions of the songs at that time.
Beyond the thirty included in the final release, the next ten songs out that didn't make the cut were also announced:
Sales data
No.
Cover
Compilation
Physical Copies Sold
Chart Positions
Certification
FIRST WEEK
LIFETIME
WEEK
MONTH
YEAR
7

B'z The Best "ULTRA Treasure"
2008.09.17

413,038+

750,000+

1

2

16

3x Platinum