Dakara Sono Te wo Hanashite
From B'z Wiki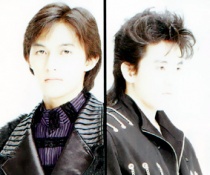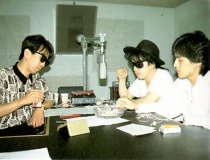 Dakara Sono Te wo Hanashite (だからその手を離して, So Let Go of that Hand) is the debut single by B'z, released on September 21, 1988. The release was made simultaneously with the band's debut, self-titled album B'z, which contained both tracks from the single. As the band's debut, the title song has remained an endearing part of their history. It has been performed at over one-hundred different shows, beginning with their very first performance as the opening number. The song remained a fixture in the first few years of the band's career until eventually only being brought back for anniversaries and special occasions, including appearing on all dates of B'z LIVE-GYM Pleasure 2000 "juice".
The production of the single was undertaken with a very small staff. The eventual credits for the release only list Tak Matsumoto as guitarist, co-arranger, and composer, Koshi Inaba as vocalist and lyricist, and Tak's friend and frequent collaborator from previous endeavors Masao Akashi as co-arranger. The songs are a product of undoubtedly a product of their time—despite rock-centric roots, the single is very much influenced by the digital beats and club music of its era. In this early era, Tak—a seasoned studio and touring musician who had played with Mari Hamada and TM Network—was impressed with Koshi's vocal abilities but wanted to reserve the right to oversee his lyrics as Koshi had not written any commercial songs prior to their partnership. It was very early into recording that Tak recognized his partner's true utility—not only could he sing, he showcased a natural proficiency for seamlessly developing relevant lyrical themes around the compositions. On top of this, Koshi's advanced vocabulary in both Japanese and English worked to quickly set their work apart in the industry in the years to come.
The year following its release, the title song returned in a re-arranged English version on the band's debut mini album BAD COMMUNICATION. A karaoke version sourced from the original song was released in 1992 as B'z TV Style SONGLESS VERSION. Due to a legal entanglement with the band's former label under which this single was released, the title song in its original incarnation would not appear on an official B'z compilation until 2013's B'z The Best XXV 1988-1998. Prior to this, in 1997, BMG released an unofficial compilation entitled Flash Back -B'z Early Special Titles- without the band's consent that contained many tracks from the first three studio albums and their first mini album, including "Dakara Sono Te wo Hanashite". As part of a co-publishing deal, B'z would later release B'z The "Mixture" in 2000 which contained "Dakara Sono Te wo Hanashite -Mixture style-", which appeared shortly before on "Konya Tsuki no Mieru Oka ni" as a B-side. This remix and re-recordings album gathered some of their more obscure B-sides from years past while also offering hard-rock, modernized versions of several other classics, including "OH! GIRL" and "Kodoku no Runaway". This version of the song was performed on CDTV on February 19, 2000, followed by an additional performance on NTV the following month.
While the B-side demonstrated an early inclination for blues music, "Heart mo Nureru Number ~stay tonight~" would not go on to the same success as the track preceding it. Interestingly, however, the song was revived six years after its initial release in 1994, for The 7th Blues, under its new, English title "SLAVE TO THE NIGHT". This entirely English revision features Tomoko Urashima on backing vocals and has endeared itself to the fanbase in a way the original did not, though it has not been performed live.
The music video was filmed in Chiba over the course of one day at a studio near the Hasaki Coast, as a typhoon was approaching the area. Additional shots were filmed in Tokyo. The band wore the same outfits as were used on the cover of their self-titled debut album and the single for which the video served. The video was released in 2013 on DVD in limited edition copies of the aforementioned 25th anniversary compilation.
An especially memorable live performance came during B'z LIVE-GYM Pleasure 2008 -GLORY DAYS- that was preserved shortly thereafter on its subsequent home video. "Dakara Sono Te wo Hanashite" was performed "karaoke style" as it had been in the band's earliest days: Koshi on vocals and Tak on guitar, with a backing track for the electronic drums and bass. Especially for the performance, Tak brought back his original Yamaha MGM Signature Model. Another performance in the original vein was included on JUST ANOTHER LIFE in 1991. This was followed by an energetic, rock-centric performance from B'z LIVE-GYM '99 "Brotherhood" -Extra- that found its way onto the 20th anniversary live compilation B'z LIVE-GYM Hidden Pleasure ~Typhoon No.20~.
While the single received some modest airplay, it did not move enough copies to make the Weekly Oricon Singles chart. The album from which it was sourced did, however, make the Top 50 for the week and, following the band's later success, would eventually be certified Platinum by the Recording Industry Association of Japan. Notably, in addition to the standard CD and cassette editions, a very rare printing on vinyl was also released at the time, becoming one of very few B'z releases to have the distinction.
Track listing
All music and guitar by Tak Matsumoto. All lyrics and lead vocals by Koshi Inaba.
Dakara Sono Te wo Hanashite — So Let Go of that Hand, だからその手を離して

Sorry, your browser either has JavaScript disabled or does not have any supported player.
You can download the clip or download a player to play the clip in your browser.

A rhythmic rock-dance number, "Dakara Sono Te wo Hanashite" features only guitar and vocals on top of entirely digital backing instrumentation. It would not be until 2000 with the "Mixture style" reversion of the song on B'z The "Mixture" that live bass and drums would be recorded for the song, as the English version "DA.KA.RA.SO.NO.TE.O.HA.NA.SHI.TE -OFF THE LOCK STYLE-" utilized a similar approach. Guitar is not featured especially prominently in this original rendition, ultimately having a faint presence within the overall mix. Koshi's voice comes through quite loud with light tone, which is in direct contrast to mixing practices B'z would engage in later. The song represented Masao Akashi's first foray into arrangement—a role he would play throughout the 1990s with B'z and ZARD, while also providing bass for B'z for their earliest tours. The song was chosen by the band's former label for the unauthorized release Flash Back -B'z Early Special Titles- without the band's involvement. Its first official collection on a B'z album would be 2013's B'z The Best XXV 1988-1998.

Heart mo Nureru Number ~stay tonight~ — A Number that Dampens the Heart, ハートも濡れるナンバー ~stay tonight~

Sorry, your browser either has JavaScript disabled or does not have any supported player.
You can download the clip or download a player to play the clip in your browser.

With the same mentality shared by its predecessor, "Heart mo Nureru Number ~stay tonight~" readily evidences the band's proclivity for blues music even from the onset of their career. Tak and Koshi both commented that it has blues elements flowing throughout. This was made even more apparent with the release of an entirely English version retitled "SLAVE TO THE NIGHT" on The 7th Blues in 1994. This English update is more readily remembered by fans of the band, though it has never been performed live.
Reversion history
Live appearances
Dakara Sono Te wo Hanashite [118 SHOWS]

Heart mo Nureru Number ~stay tonight~ [31 SHOWS]
Sales data
No.
Cover
Single
Physical Copies Sold
Chart Positions
Certification
FIRST WEEK
LIFETIME
WEEK
MONTH
YEAR
1

Dakara Sono Te wo Hanashite
1988.09.21

—

—

—

—

—
Personnel
B'z
Production