B'z (International EP)
Jump to navigation
Jump to search
B'z
Digital release by B'z
Released
April 3, 2007
Genre
Hard rock
Length
20:25
Label
Vermillion Records
Producer
Tak Matsumoto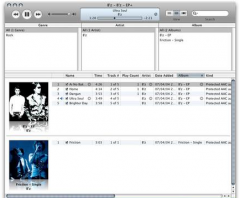 B'z was a self-titled international release by B'z, released in a number of Western territories via iTunes on April 3, 2007. The extended play album contained re-recordings and remixes of previously-released songs prepared in 2005 and was their first foray into the West. Although the album was released in a number of territories including the United States, United Kingdom, Germany and France, it was not made available in Japan. As such, it remains one of the few items in the B'z catalogue to not receive distribution in their home country.
One of the five songs made available here was an English version of the 1998 single "HOME" that had been premiered live during a streamed show the year before. The English version of the song would be voted for inclusion by fans onto the fan-selected compilation B'z The Best "ULTRA Treasure" in 2008 to celebrate the band's twentieth anniversary.
The song titles on the release were presented only in English, with changes in capitalization and, in the case of the third track, having the title shortened to only the last word. Although it was an international release, only two of the songs are in English: "Home" and "Brighter Day". The three Japanese songs featured here would later be remade in English on the band's 2012 debut English album, which also received an international release.
Also released internationally on April 3, 2007 was "FRICTION", an all English song made available on iTunes as part of the soundtrack to the video game Burnout Dominator. The single was available for purchase only for a limited time and distribution has since ceased. However, later in the year, "FRICTION" was included as the second B-side on the band's forty-forth single, "SUPER LOVE SONG". In addition, a reversion of the song with a new arrangement and newly-recorded vocals was included on their 2007 album ACTION.
As of 2013, the international EP is no longer available for purchase. It has since been succeeded by the band's likewise self-titled debut English album, released globally on July 25, 2012.
Track listing
All music and guitar by Tak Matsumoto. All vocals and lyrics by Koshi Inaba.
Sales data
No.
Cover
Specialty Album
Physical Copies Sold
Chart Positions
Certification
FIRST WEEK
LIFETIME
WEEK
MONTH
YEAR
6

B'z — INTERNATIONAL EP
2007.04.03

—

—

—

—

—
Personnel
B'z
Support Members