B'z (Album)
Jump to navigation
Jump to search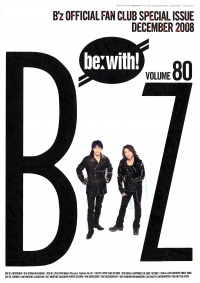 B'z is the debut studio album by B'z, released on September 21, 1988. The release came simultaneously with their debut single "Dakara Sono Te wo Hanashite" which was collected in full here as well. The date of September 21 would become an important one in the years that have followed, with the band typically celebrating milestone anniversaries on or around the date with special releases and LIVE-GYM finales such as those for B'z LIVE-GYM Pleasure 2008 -GLORY DAYS- for the twentieth anniversary and B'z LIVE-GYM Pleasure 2013 -ENDLESS SUMMER- for the twenty-fifth.
Due to Tak's insistence that they not venture onto the live stage before having enough of their own songs to fill a setlist, there were no LIVE-GYM tours attached to the album's initial release. Just prior to the release of their second album OFF THE LOCK, tracks from the album were finally performed live as part of a special event labeled SF Rock Station Final Event "Thank You TM Network". As a result, many of the songs from the album were first included in a live setlist as part of their first ever tour B'z LIVE-GYM 00 "OFF THE LOCK" released just after their second album.
Most of the album has gone uncollected on future compilations due to a legal entanglement stemming from the band leaving their original record label BMG, who retained the master recording rights to the band's first three albums and first mini album. However, five tracks—"It's not a dream", "Half Tone Lady", "Dakara Sono Te wo Hanashite", "Nothing To Change" and "Kimi wo Ima Dakitai"—were collected on the unofficial 1997 compilation Flash Back -B'z Early Special Titles- without the band's express consent. Additionally, "Dakara Sono Te wo Hanashite" would finally be collected within the official catalogue with the 2013 release B'z The Best XXV 1988-1998 after a deal between B'z and BMG was reached. The latter entity continues to be the official publisher for this specific album.
Ultimately, the album is seen as a curiosity amongst B'z fans with the band having not performed any songs apart from its single at LIVE-GYM concerts since the early 1990s. Only the single and its B-side, also found here and titled "Heart mo Nureru Number ~stay tonight~", have made it to any of the band's home videos. The former has appeared on multiple releases, but its companion track was only released on LIVE RIPPER.
For its first week on shelves, B'z debuted at number 47 on the Weekly Oricon Album chart with 3,790 copies sold. The album was considered an obscure release at the time and its pressing was comparatively low. However, with the band's major hits at the end of the following year and into 1990 and especially 1991, their self-titled debut began to re-enter the charts. For the year 1991, the album ranked 84 in overall album sales. With the band's ensuing popularity in following years, the release has been certified Platinum for physical copies sold with a total of 338,000 moved. Additionally, the release is also one of the few B'z albums to be issued on vinyl at the time of its release. Later, as part of their 30th anniversary exhibit entitled "SCENES" 1988-2018, the album was again made available on a two-disc vinyl set alongside all other studio albums to that point.
Production information
Formation
In the mid-1980s, the music scene in Japan was awash with music that consisted primarily and often exclusively of digitally-generated sounds and rarely involved the full instrumentation one would expect of rock music. The state of popular music at the time was at odds with the rock culture that a young guitarist by the name of Tak Matsumoto had admired since his youth. Then a studio musician playing guitar on the albums of some of Japan's top emerging pop acts, such as TM Network and Mari Hamada, Tak was discontent with the lack of distinctive guitar work in the music industry and longed to create his own music. After a stint of touring and recording with Hamada and TM Network, the young guitarist was determined to emerge from the shadow of being a supporting artist and create his own musical identity.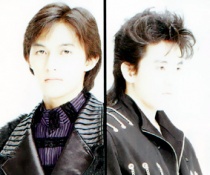 After departing from his supporting commitments, Tak set out to embark on his solo career where he would have control over the sound of his music. Solo instrumental albums were seeing a niche trend within a market that was starving for some sort of innovation, and thus Tak took advantage. On May 21, 1988, Thousand Wave, the debut album from twenty-seven year old guitarist Tak Matsumoto, was released to the Japanese public. The ten track album laid the foundation for Tak's early compositional style and offered the world the very first example of the prototypical B'z sound that would be of vital importance in the years to follow. In addition to offering a taste of what would become B'z music, it was here that Tak cemented another element of B'z history when friend and keyboardist Takanobu Masuda played on over half the album. Masuda had previously served as a fellow supporting member to Mari Hamada and would go on to tour with B'z more so than any other supporting member, having done so beginning in 1992 and would still be doing so even as of 2012.
The young Tak was satisfied with Thousand Wave and his first experience of being in control of the studio. At the same time, he felt he still hadn't even begun to reach his potential for what he wanted to accomplish in his musical career. As such, with the release of Thousand Wave, Tak felt that chapter of his career had ended and the next was soon to begin. It was then that he set out to realize his dream and thus began his search for others with which he could form a band to take to the top of the charts.
In May 1988, Tak—feeling confident with a guitar and not so much in his vocal ability—began searching for a vocalist with which to pair himself and begin his band project with. It was at that time that a music producer and friend by the name of Daiko Nagato introduced Tak to a demo tape from his collection of aspiring artists. The tape was a recording made several years prior by a university student who had made the tape with the hopes of being noticed and becoming a professional musician. The songs from the session that were then heard by Tak were covers of T-Bone Walker's "T-Bone Shuffle", Led Zeppelin's "You Shook Me", and Billy Joel's "Honest". The tape went unnoticed and unrewarded at the time and was filed away. Years after it had been recorded, the solo guitarist Tak Matsumoto was listening to the tape and immediately sensed a connection with his style of music and the voice he was hearing.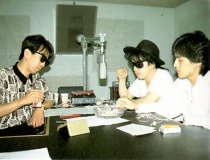 The voice on the tape belonged to a recent Yokohama National University graduate by the name of Koshi Inaba. Though he had been a student at the time the demo tape was authored, he had now graduated with a degree in mathematics and had embarked on the path of teaching the subject instead. The young Koshi had excelled at academics, particularly in English and math, and felt comfortable teaching the latter considering that, during the course of his university days, he had ranked third in the entire country in mathematics. It was not in teaching that his heart really belonged, however, and while his dreams of being a musician had begun to diminish with the responsibilities of the real world, he was not ready to give up entirely. When he suddenly received a call from a man named Tak Matsumoto to request an audition with concern to a demo he had recorded years earlier, Koshi was floored and immediately accepted the meeting.
The rendezvous took place at a small studio in Roppongi, Tokyo called "SOUND JOKER". There, the two mused over the music that they liked and found a great many similarities between them, including a mutual fondness of The Beatles. The pair reconvened the next day without a solid plan and decided to become more familiar with one another's styles by playing Beatles songs together. It was then that the two played through covers of "Oh! Darling" and "Let It Be" with only a microphone and guitar. However, shortly after the second song, the guitar amplifier malfunctioned and they had no choice but to call it a day. Despite the sudden inconvenience, both Tak and Koshi had heard enough and their newfound band was on its way. Twenty years later, after they had long topped the Japanese music scene and become its biggest artists, the two relayed this story and performed "Oh! Darling" under the same conditions, with only a microphone and guitar, to a crowd of over 70,000 during their sold-out 20th anniversary tour.
While the formation of the band came quite easily, Tak and Koshi said in later years that it was more of an organic than an arranged decision to start a band, with it all happening naturally. During their 1993 tour, "RUN", Tak joked on-stage that, "Come to think of it, we never did [outright agree we should form a band]", to which Koshi responded, "Let's do it then!". In the Japanese music industry at the time, the perception was that rookie artists should give up if they are unable to produce a hit within three albums. As a result, Tak said to Koshi in the early days that they should score the cover of Gb, a popular music magazine at the time, within three years.
Recording and release
The tagline behind the release was "Accelerating from the cutting edge (If the future is a fantasy, I have no need for it)." From the band's founding through writing the music, producing, and recording their original works, it all occurred in a short period of around four months. At the onset of the first album's recording, Tak oversaw all aspects of the album, including presiding over Koshi's lyrics, who had no previous professional experience with songwriting. As he had never been a songwriter prior, Koshi noted that the prospect of writing songs did not come easily at first. Though writing songs was difficult, he found a reprieve when he began implementing more and more English phrases and words in the lyrics and their titles. He had, after all, been a strong English student at school and spoke the language well. This would become a trademark of B'z songs going forward, with the band being noted both in their home country and internationally for their correct implementation of English lyrics in their songs. This was and remains in stark contrast to a great many other Japanese acts that have a less strict means of utilizing the language in a correct form. Additionally, because Koshi was so new to recording and songwriting, Tak insisted on reviewing the lyrics before they recorded. After a few songs on their earliest works, it became clear that the young singer had a proclivity for it and was already well on his way; after a handful of songs, Tak no longer presided over any of the band's lyrics.
Very quickly, Tak recognized his partner's natural proficiency with songwriting, no doubt due to his extensive vocabulary with both Japanese and English and his ability to develop thematic themes seamlessly around the music Tak had written. This was to be the true beginning of the sound that would define B'z music in the decades to come. Tak continued writing all of the music and performing all guitar while Koshi sang and wrote all of the lyrics freely. When compared to their later work especially, the guitar is often low in the mix and not used as the primary instrument on every track. This was at Tak's insistence, as he wanted to fuse rock with the "driving" digital sound of the era. Additionally, all of the album's tracks with the exception of "Half Tone Lady" and "Fake Lips" end on fade outs.
The album jacket features a photograph of B'z on a white background and "B'z" in large letters, with a pronunciation guide included in the middle (Bi-z). A small number of publications at the time misread the album title and artist name as "Bi-z" as a result. A recreation of the cover was photographed by the band for the twentieth anniversary issue of their fanclub magazine, Be With! Vol. 80, in 2008. Interestingly, at the time of their debut, the band was so low-key that they were responsible for acting as their own stylists and thus shopped for the outfits themselves.
The release of the album did not garner a great deal of attention at the time, with only a little over 3,000 physical copies sold in its first week. Tak insisted that the band would not hold their own concerts until they had enough of their own songs to fill out a setlist. As a result, the band returned to the studio shortly after the release of their self-titled debut with the intent of preparing a follow-up soon thereafter whilst utilizing the knowledge and experienced they had gained. While the band saw their debut album as a stepping stone in their growth as artists and had recorded and released their debut work in a short span of only four months, in retrospect they expressed dissatisfaction with the ultimate result that had been achieved. Tak later described the overall project as somewhat clumsy in terms that equated the sessions with finding their way and not being sure exactly what would come of it.
Track listing
All music and guitar by Tak Matsumoto and all lyrics and lead vocals by Koshi Inaba unless otherwise noted.
Reversion history
Live appearances
Live Performances
Home Videos
Sales data
No.
Cover
Album
Physical Copies Sold
Chart Positions
Certification
FIRST WEEK
LIFETIME
WEEK
MONTH
YEAR
1

B'z
1988.09.21

3,790+

338,360+

47

—

84 (1991)

Platinum
Personnel
B'z
Production