Into Free -Dangan-
Jump to navigation
Jump to search
Into Free -Dangan-
Single by B'z
from the album B'z
Released
April 4, 2012
Promotions
#1 (Dragon's Dogma)
Length
04:44
Label
Vermillion Records
Producer
Tak Matsumoto
B'z singles chronology
Into Free -Dangan- is an English digital single by B'z, released worldwide in over fifty countries on April 4, 2012 via iTunes. The song is an English remake of the 1998 single "Samayoeru Aoi Dangan", with an entirely new arrangement and a substantially altered composition. The song was first premiered live the previous summer during the band's return to North America during B'z LIVE-GYM 2011 -long time no see-.
On February 1, 2012, a joint announcement was made with video game company Capcom stating that "Into Free -Dangan-" would serve as the global theme to the upcoming game Dragon's Dogma. Simultaneously, the official B'z website was updated with a sample of the song now serving as the intro video. Shortly thereafter, a trailer with footage from Dragon's Dogma was released with a shortened version of the song playing alongside scenes from the game.
The song was included as part of the band's self-titled English debut album as the final track, released worldwide on July 25, 2012 on the iTunes Store.
Track listing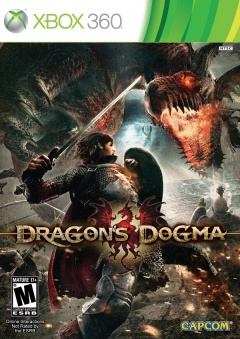 All music and guitar by Tak Matsumoto. All vocals by Koshi Inaba with English lyrics co-written by Koshi Inaba with Shane Gaalaas.
Into Free -Dangan- — Original: Samayoeru Aoi Dangan (1998)

File:e01 05.ogg The very first of the new English versions to be premiered live, "Into Free -Dangan-"—then simply known as "Dangan"—was used as the opening to the band's 2011 North American tour. When compared to the original version of "Samayoeru Aoi Dangan", it remains the song that has changed most as far as composition and arrangement when compared with the other songs from the self-titled English album. Strings were added in an extended intro to the song with the entire arrangement receiving an overhaul to make it best suited to the new melody and lyrics. When it was chosen by the band to be the theme song to the video game Dragon's Dogma, the producers of the game requested that the lyrics be adjusted to reflect the content of the game's story. This led to the introduction of the line "Dragon inside of me" to the lyrics. The band was very satisfied with the result, with Koshi saying he thought it "turned out to be an extraordinarily great song".
Live appearances
Live Performances
Into Free -Dangan- [17 SHOWS]
Home Videos
Sales data
No.
Cover
Digital Single
Physical Copies Sold
Chart Positions
Certification
FIRST WEEK
LIFETIME
WEEK
MONTH
YEAR
2

Into Free -Dangan-
2012.04.04

—

—

—

—

—
Personnel
B'z
Drums
Bass
Production