The Complete B'z
Jump to navigation
Jump to search
B'z
Digital release by B'z
Released
August 1, 2005
Recorded
1988-2005
Genre
Rock, Hard Rock, Pop Rock, Blues, Jazz, Dance, Adult Rock, Metal
Label
Vermillion Records
Producer
Tak Matsumoto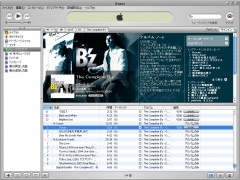 The Complete B'z was a digital collection by B'z, released exclusively on the Japanese iTunes on August 1, 2005. The collection, priced at ¥18,800, included all of the singles, albums, and compilations released by the band at the time in digital form, along with six exclusive bonus tracks to those that purchased the set in full. Upon release, the collection immediately debuted at the top of the iTunes charts despite its premium price point.
Nine days after the collection's release, "OCEAN" was released as a single. Shortly thereafter, it was added to the collection. It bears noting that the hidden tracks typically found at the end of LOOSE, B'z The Best "Treasure", and The Ballads ~Love & B'z~ are excluded in the versions that were found here.
The songs were delivered to purchasers in AAC format, with a bitrate of 128 kbps. On February 21, 2012, the Japanese iTunes service began a shift toward iTunes Plus—a new standard that doubled the bitrate to 256 kbps and removed DRM restrictions. Those that had purchased music previously at the old standard were then able to upgrade much of their library by deleting and redownloading their songs. However, it was at this time that The Complete B'z was made unavailable for further purchase. The B'z catalogue returned to the service at 256 kbps and with a price of ¥250 per song, with the singles, albums, and compilations available individually instead of as a set.
As of 2013, The Complete B'z is still no longer available for purchase. However, most of its contents save for the bonus tracks may still be purchased individually from the service.
Contents
The collection contained 343 total tracks, with thirty-nine singles (through "OCEAN"), fourteen studio albums (through THE CIRCLE), all five mini albums, and four compilation albums (through 2002's The Ballads ~Love & B'z~). In addition, a digital booklet and six exclusive tracks were made available to those that purchased the entire collection.

Exclusive Tracks
Sales data
No.
Cover
Specialty Album
Physical Copies Sold
Chart Positions
Certification
FIRST WEEK
LIFETIME
WEEK
MONTH
YEAR
5

The Complete B'z
2005.08.01

—

—

1

—

—