Pepsi NEX presents B'z PREMIUM LIVE
Jump to navigation
Jump to search
Pepsi NEX presents
B'z PREMIUM LIVE
Event featuring B'z
Start Date
August 30, 2012
End Date
September 1, 2012
Country
Japan
Songs
15
Home Video
Unreleased
Shows
2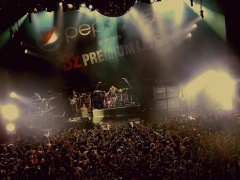 Pepsi NEX presents B'z PREMIUM LIVE was a special event featuring B'z and sponsored by Pepsi NEX. This would be the second live collaboration between the two, following 2011's Pepsi NEX 1DAY LIVE. Tickets to the event were available exclusively through a promotion tied into the band's 50th single "GO FOR IT, BABY -Kioku no Sanmyaku-". Those that purchased the single were given the opportunity to redeem a card within that gave a chance at winning some of the very limited tickets to see B'z at two smaller venues: Namba Hatch in Osaka on August 30 and Studio Coast in Tokyo on September 1. Amongst the songs performed were all five tracks from the then-recently released self-titled English debut album that featured English versions of "Ai no Bakudan", "ultra soul", "juice", "SPLASH!", and "Samayoeru Aoi Dangan". Fellow singles "Shoudou" and "MOTEL" also made their return to the stage after several years of absence.
The two shows preceded and served as a warm-up for the band's then-upcoming North American tour B'z LIVE-GYM 2012 -Into Free-. As a result, the shortened setlist is a truncated version of what was to be performed on the seven United States and Canada stops weeks later, with the exception of "HEAT". The song, originally written for South Korean artist Kim Hyun Joon, was not intended to be recorded by the band although they did express at the time of its reveal that they thought it would be interesting to play it live. While it was not retained in the encore for the Into Free tour in North America, it was brought back for the brief Japanese stint of the same tour. Due to the overwhelmingly positive reception in the live arena, a studio version of "HEAT" was later included on B'z The Best XXV 1988-1998 a year later as a bonus song.
Unlike with the Pepsi NEX 1DAY LIVE special concert event from 2011 that had select performances highlighted on the limited edition for "GO FOR IT, BABY -Kioku no Sanmyaku-", none of the performances from either night were released in an official capacity. However, the entire tour finale for B'z LIVE-GYM 2012 -Into Free- was streamed live on the internet for fans all over the world, which shared a similar but expanded setlist.
Touring Band
Setlist
ENCORE
☆ English version or original English song
Venues
2012.08.30

Osaka: Namba Hatch
2012.09.01

Tokyo: Shinkiba STUDIO COAST