Pepsi NEX presents B'z 1DAY LIVE
Jump to navigation
Jump to search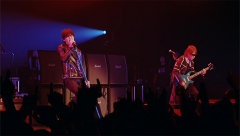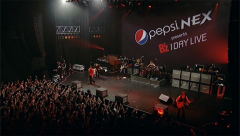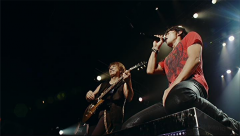 Pepsi NEX presents B'z 1DAY LIVE was a special event featuring B'z that was sponsored by Pepsi NEX and was the first concert collaboration between the two entities. The event was held on September 28, 2011, in the midst of B'z LIVE-GYM 2011 -C'mon-. The 1,000-ticket show took place at Shibuya-AX only months after B'z had wrapped their then most recent foray into North America with B'z LIVE-GYM 2011 -long time no see-. To gain tickets to the event, attendees collected points associated with various Pepsi-themed promotions and redeemed them online in order to be entered into a lottery for a chance to win.
Serving as warm-up for their upcoming tour for all of Japan, the setlist was a condensed version of what the band would play on the forthcoming tour, including an English version of "SPLASH!" that had been premiered in the year's earlier North American tour but had not yet received an official release. This version of the song would be labeled as "Splash" and released the following year worldwide on iTunes as the band's debut English album. A number of songs from C'mon would be included in the setlist along with a number of new and old singles, including "ZERO", "Liar! Liar!", "Ichibu to Zenbu", and "Sayonara Kizu Darake no Hibi yo".
Although the full concert has never been released on home video, three performances from the night were later released on the bonus DVD in limited edition copies of the band's 2012 50th single, "GO FOR IT, BABY -Kioku no Sanmyaku-". The DVD featured the aforementioned single's music video as well as performances from this show of "Sayonara Kizu Darake no Hibi yo", "Liar! Liar!", and "Ichibu to Zenbu".
In 2012, B'z again partnered with Pepsi for a special concert collaboration, this time with two venues in both Tokyo and Osaka, known as Pepsi NEX presents B'z PREMIUM LIVE.
Touring Band
Setlist
ENCORE
Home Video Recordings
September 28, 2011 — SHIBUYA-AX
Venue
2011.09.28

SHIBUYA-AX