B'z SHOWCASE 2013 -Pleasure75-
Jump to navigation
Jump to search
B'z SHOWCASE 2013 -Pleasure75-
SHOWCASE by B'z
Start Date
June 10, 2013
Country
Japan
Songs
20
Home Video
Unreleased
Shows
1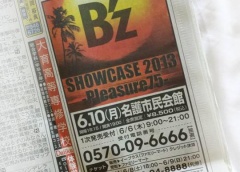 B'z SHOWCASE 2013 -Pleasure75- was a SHOWCASE by B'z that took place on June 10, 2013. The one-date concert came just five days prior to the start of the band's 25th anniversary tour B'z LIVE-GYM Pleasure 2013 -ENDLESS SUMMER-, for which it would serve as a warm-up. The event was announced in local newspapers in Nago, where it would be held. The "75" in the title refers to "Nago" itself, with "7" and "5" representing "Na" and "Go" in Japanese, respectively.
The setlist for Pleasure75 was similar to its successor but not without changes. It was, however, the only date in which both new songs "Kakushin" and "Utopia" would be played together in the same setlist as the full tour would instead see the two being alternated in a single slot on different nights.
As is common for localized B'z performances, special Pleasure75 branded merchandise was also made available. Two different T-shirt designs were offered in both black and white at the venue and soon thereafter were put up for order on B'z The Store for online orders.
Touring Band
Setlist
ENCORE
Venues
2013.06.10 

Nago Shimin Kaikan