Nensho
Jump to navigation
Jump to search
Nensho
Single by Koshi Inaba
Released
February 26, 2014
Length
3:16
Label
Vermillion Records
Producer
Koshi Inaba
Koshi Inaba singles chronology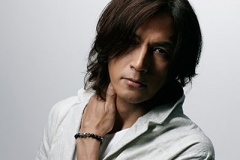 Nensho (念書, Written Pledge) is a digital exclusive single by Koshi Inaba, released on February 26, 2014. The single is his fifth in total, with the previous entry, "Okay", coming in 2010. The single was released simultaneously with the launch of Koshi's own solo website, en-zine, on which an excerpt of the song was used as background music throughout the website. The single was made available at launch on the Japanese iTunes service as well as other digital music platforms in Japan, including mora, Musing, Recochoku, music.jp, dwango, and Being GIZA Studio's own web store.
With the release of the single and launch of his own website, Koshi's music video for "Nensho" was also made available in full on the official B'z YouTube channel. Koshi himself does not appear in the video, which employs extensive visual effects built around the theme of the lyrics.
Track listing
All music composed by, lyrics written by, and vocals performed by Koshi Inaba.
Nensho — Written Pledge, 念書

File:kd01 01.ogg A piano-driven rock song, "Nensho" is a whose lyrics revolve around the theme of overcoming inaction and moving forward with one's life. The music video, which exemplifies the themes of the lyrics, does not feature Koshi himself. Instead, a female actress is the central figure, who ends the video with the revelation of breaking out of the mold of inactivity resulting in the characters for "Nensho" (Written Pledge) painted onto her body.
Personnel
Gallery
External links